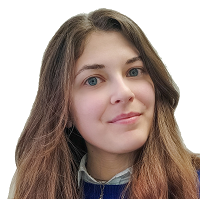 Short Biography
Camilla Febo is currently enrolled in the PhD program of Food Engineering and Biotechnology at the Free University of Bozen-Bolzano, in collaboration with IIT (Istituto Italiano di Tecnologia).
She obtained her bachelor degree in Biotechnology at University of Rome Tor Vergata  in 2018. She graduated in 2021 from University of Modena and Reggio Emilia with a MSc degree in Industrial Biotechnologies. Her thesis' work consisted in the isolation, microbiological and molecular characterization of microbes found in a gluten-free sourdough and the characterization of exopolysaccharides (EPS) produced by Lactic Acid Bacteria. In 2021, she also won a research scholarship in the same university with the aim of studying the microbial pool found in a local bakery´s sourdough and to evaluate the production of EPS.
The research areas of the PhD project will be bioink, 3D bioprinting and sustainable electronics.
Related Link