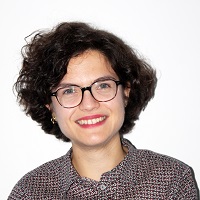 Short Biography
Martina Costa Angeli received her Master's Degree in biomedical engineering (2016) from Politecnico di Milano (Italy), where she obtained her Ph.D. in Materials Engineering in 2020 with a thesis entitled "Inkjet-printing technique for deformable strain sensors". She worked on the development of different types of deformable low-cost sensors for strain measurement. Currently, she is a postdoctoral researcher at the Sensing Technologies Lab of Free University of Bolzano (Italy).
Her research is part of the "STEX - smart textile for monitoring muscles activity", a project in collaboration with a local company for the development of wearable sensors for the monitoring of physical and chemical parameters of the muscle activity.
Research Areas
Printing technology, Flexible and stretchable sensors, Wearable sensors.
Related Links