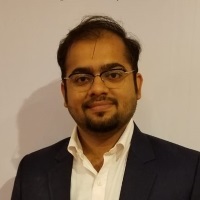 Short Biography
Raheel Riaz is currently pursuing his Ph.D in Advanced Systems Engineering in collaboration with "Sensing Technologies Lab" of Free University of Bozen-Bolzano and EURAC research. His current research is focused on Sensor fabrication and Energy harvestors for Mountain rescuing and Mountain sports application. He accomplished his Master's in Biomedical Engineering and Bioinformatics from Istanbul Medipol University, Turkey (2016-2018) and Bachelor's in Biomedical Engineering from Sir Syed University of Engineering and Technology, Pakistan (2012-2016). His research interest includes Man-Machine Interactions and Sensor fabrication.
Research Areas
Designing and testing acquisition systems for Physiological signals.
Fabrication of Biosensors and Microsensors for PoC (Point of Care) devices and Neural-Prosthesis applications.
Energy Harvesters for Smart Wearables.
Related Links
Research Gate
LinkedIn
UNIBZ Personal Page
EURAC Personal Page