The opening ceremony took place during the international workshop "Technologies for the Future" headed by Professor Paolo Lugli. Many researchers and individuals related to the field of sensing and nanotechnologies attended the workshop.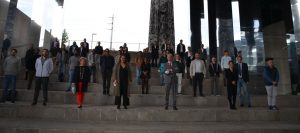 Sensing Laboratories (SensLab) is a new laboratory at UNIBZ funded by European Regional Development Fund Investment for Growth and Jobs Programme 2014-2020. SensLab is well equipped with the state of the art equipment required to conduct research in sensing and nanotechnologies.
For further details regarding inauguration, kindly press the link.