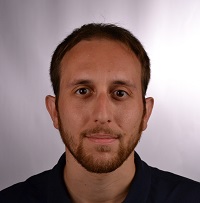 Short Biography
Mattia Petrelli is a PhD student at the Sensing Technologies Lab of Free University of Bozen-Bolzano, Bolzano, Italy. He is enrolled in the Advanced-Systems Engineering PhD program.
His research is part of the "STEX - Smart textile for monitoring muscles activity" project, a collaboration between the Sensing Technologies Lab and Microgate, a local company, leader in the field of real-time monitoring of physical activity.
He completed both his Bachelor's Degree (2012) and Master's Degree (2017) in Electronic Engineering at the University of Salerno. During his Master's, he spent his ERASMUS semester at the Technical University of Munich, focusing on the possible integration between the spray-coating deposition of functional materials with the 3D-printing technology, and the results obtained were published on a peer-reviewed journal.
Research Areas
Main research area includes:
Integration between 3D printing technology and thin-film deposition techniques.
Fabrication and characterization of CNT-TFTs for flexible biosensing applications.
Related Links